Mexico's gastronomy
The Art of our Mexico
What would life be without food? Or rather, what would we be without food? Notably, when we talk about the delicacies our culture offers us daily, with all the ingredients we have and that many countries wish they could have. We can start talking about a delicious mole rojo, move on to the famous tacos al pastor, and then land at a frijoles de olla plate that you can find in almost every Mexican home. The list of the fantastic food we have is so extensive that it would be impossible to show it to you without making your stomach crave at least one dish.

What makes Mexico's gastronomy so unique is the passion and love we have towards our traditions and roots.
This is reflected not only in the festivities we have but also in the food, a symbol that reminds us that great rice tastes better when prepared in a traditional clay pot than when you use a modern Teflon pot. It comes as no surprise that Mexican cuisine was declared an Intangible Cultural Heritage of Humanity by UNESCO in 2010.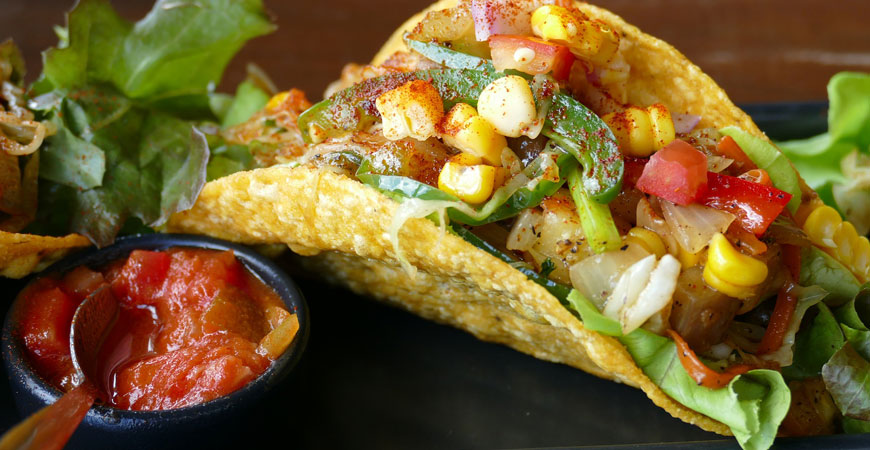 Typical dishes
As we have mentioned, Mexican dishes are one of our most significant international distinctions because of the variety we can find in each region, kitchen, people's season, etc.

Below you will find a list of our country's most typical dishes:
1.
Tacos:

In general, tacos are an expression of happiness. Anytime, anywhere, tacos are a good idea in Mexico. Depending on the region you are located in, you can find tacos of different flavours including barbacoa, carnitas, chicken, suadero, flank steak, and of course the king of tacos: al pastor. 
2. Torta ahogada:
This dish comes from Jalisco, a state located on the western part of the country, and specifically from the city of Guadalajara. This dish is made with a crispy bread called birote filled with small pieces of carnitas, and it is dipped in a spicy chile de árbol sauce, prepared with vinegar, chocolate and garlic. 

3. Tamales:
Tamales are known around the world due to the variety of shapes and flavours they have, depending on the state or city where you eat them. There are around 5,000 tamales flavours in Mexico, including mole rojo, rajas, chile verde, oaxaqueños, zacahuil and of course, the sweet varieties. 

4. Mole poblano:
This dish has its origins in pre-Hispanic times when it was called Mulli (meaning chilli sauce and pumpkin seeds with marinated turkey meat). This dish is not only versatile in that it can be served for any type of occasion, but also in the complexity of its preparation, representing the diversity that distinguishes us. 

5. Pozole:
Tracing its roots to the pre-Hispanic era, this dish comes from the word Tlaponzonalii, which means foamy in Náhuatl. According to monk's text recordings, this dish used to be served with meat from sacrificed humans; however, many refute this idea. No matter what kind of meat was served with pozole in the past, the main ingredient of the dish are corn grains, cooked until soft. September, the month when we celebrate our independence, is when pozole is the star in every Mexican kitchen thanks to the three colours, depending on the ingredients used, it can have: green, white and red.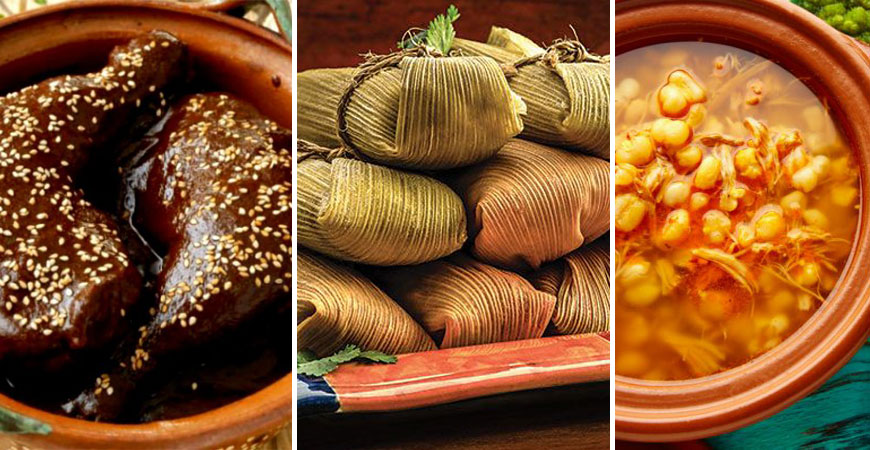 6.
Chiles en Nogada:

Chiles en nogada, just as pozole, are mainly prepared in September. This dish has been prepared for centuries in Mexico, and yet, the recipe and preparation mode has remained unchanged. The ingredients used to make them in the past are still used nowadays.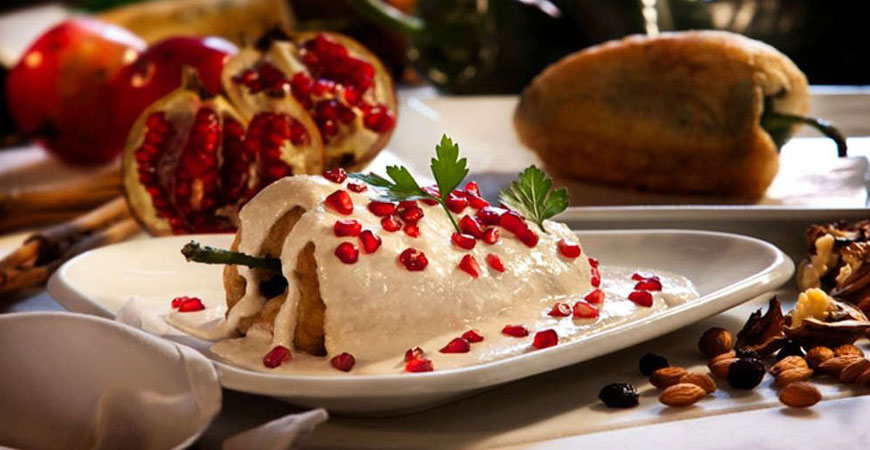 7. Barbacoa:
This is a typical dish from the center region of the country, particularly popular in the states of Hidalgo, Querétaro and Tlaxcala. It's prepared in ovens buried in the earth, sealed with pencas de maguey that act as a door. This dish also traces its origin to the pre-Hispanic era. 

8. Enchiladas:
Whether you are travelling in the south or the north, east or west, you can be sure you will find enchiladas everywhere. This dish is prepared with soft corn tortillas filled with chicken and dipped in green or red tomato sauce. Depending on the region where you eat them, the ingredients may vary. Still, they usually include a topping of cheese, cream and lettuce. .

9. Cochinita pibil:
Originally from the state of Yucatán, this dish traces its origin to Mayan times. Its preparation consists in wrapping marinated pork meat in banana leaves and cooking it in an earth oven. It's served with purple onions prepared with orange juice and habanero pepper. It is usually served with the banana leaves where it was cooked simulating a plate.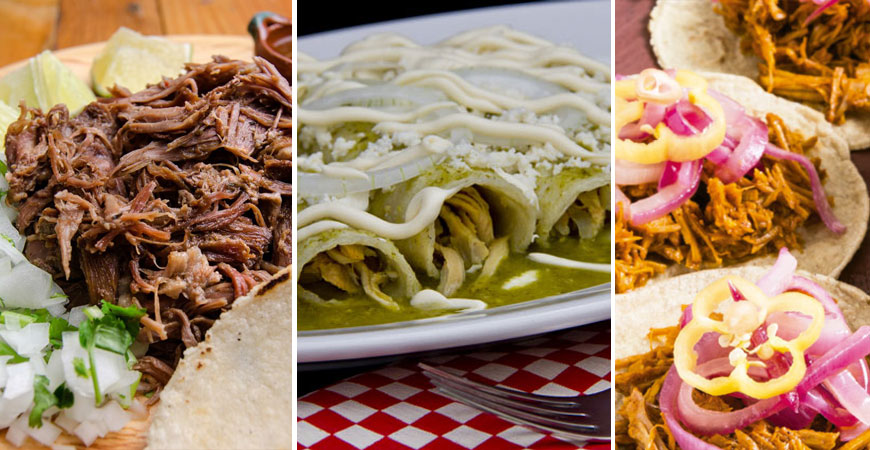 After seeing this short but delicious list of typical Mexican dishes, it's no surprise the recognition our gastronomy received as Intangible Cultural Heritage of Humanity. This not only recognized our food, but also the culture and the history that has made us what we are.