14 Fabric types and care instructions
To talk about different fabric types and their care instructions, it's essential to know the origins of the main fabrics used in the textile industry.
Some fabrics date back to the XIII century, and their evolution moves up to the XIX century. As we get acquainted with this information, we can better understand the fabrics we use nowadays in our clothing, independently from the information we can get in the clothes information tag.

At PESA Uniformes, we recommend that you always follow the care instructions included in our garments, as this will ensure their quality over their lifetime and performance as intended.

Moving on, let's talk about fabrics.
The beginning
SThe origins of fabrics date back to the human need for covering their bodies. Humans looked for different elements that could create textures according to their needs and knowledge then. An example of this is sheep wool. In China, silk manufacturing was carried out, and the fabric brightness was its main characteristic. In Egypt, something similar to fabric brightness happened with cotton and linen. Cotton crops are millenary, and they were a fundamental element of the economy of different colonies from England and the USA.

The great artists in the elaboration of fabrics were the Arabs, thanks to their ability to develop distinctive techniques and ornaments for each one. The renaissance was an important time for Europeans, at that moment, they started to distinguish between fabrics that were used to dress or to use as decorations.

After this short review on the history and origin of fabrics, we can move on to talk about the primary materials used in the clothing industry. Some fabrics are more often used than others depending on the garment and the field in which they will be used. Still, all the fabrics play an essential role in the textile industry.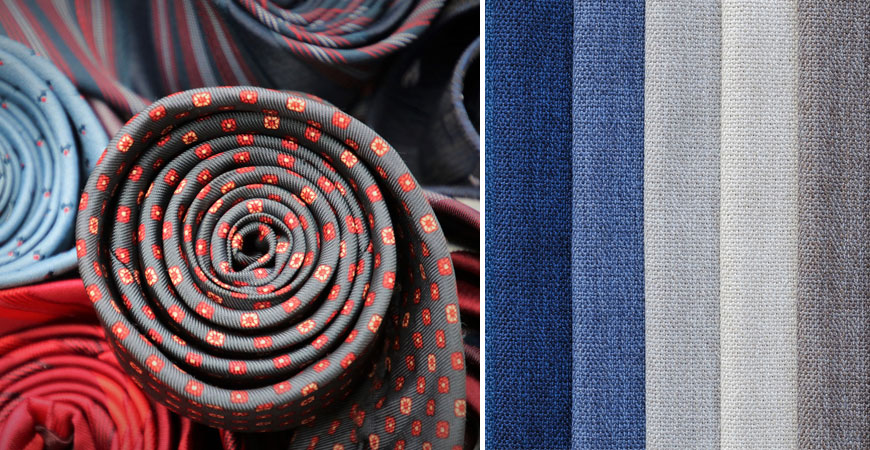 Fabric types

Acetate:
This is an artificial fabric with a silky appearance. Made of fiber threads, its appearance is luxurious. It has been used since the twenties mainly for lingerie, blouses, and dresses. Its care instruction is to dry clean. The maximum temperature it can resist is 120° Celsius,  subjecting it to higher temperatures can damage the fabric.

Acrylic:
This is an artificial fabric similar to natural wool that can be used in any type of garment. It creates crisp colours and can be used for creating sweaters, jackets, dresses, and scarves. Its care instructions are to wash at cold temperature or at 30° Celsius at the most as going over this temperature creates the risk of shrinkage.
Cotton:
A cheap and multifunctional fabric, it's soft to the touch and one of the safest fabrics to use. Cotton is used to create a wide range of clothing: t-shirts, dresses, pants, jackets, shirts, underwear, and more. Cotton is very easy to care for: garments and textiles with true colours are resistant to boiling water. Cotton fabrics that don't have a special treatment can be ironed to a temperature of up to 200° Celsius.

Alpaca:
This is a fabric made of fibers from Alpaca, a mammal coming from the Llama family. A thin, silky and light fabric, it is used to manufacture coats and sweaters. Care recommendations are to hand wash with cold water and drying in the shade horizontally. As this is a delicate fiber, it should not be ironed.

Batiste or cambric:
This is a fabric woven from cotton, polyester, linen, or silk, but more commonly made of cotton. Its main characteristics include being soft, delicate and light, creating a great fabric fall for garments. It's mostly used for creating lingerie, shirts and scarves. Care recommendation is to wash it only when needed, it can be machine washed in the delicate cycle.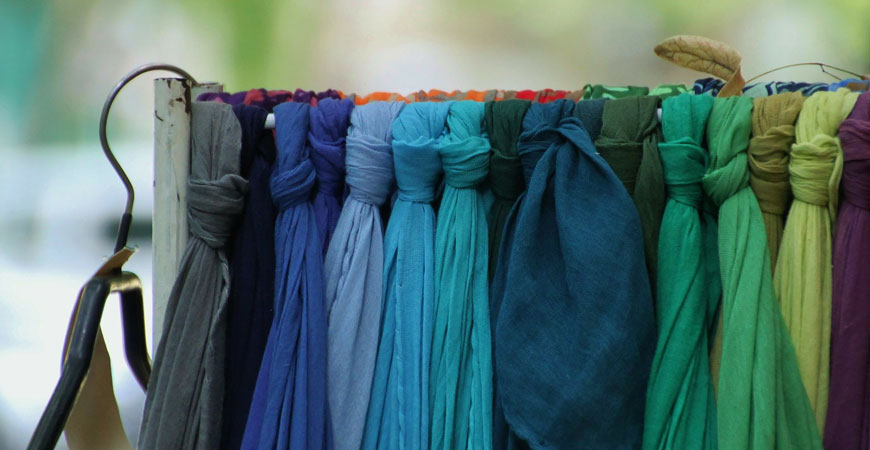 Chiffon:
A thin and transparent fabric with a soft texture, often made of silk, chiffon is ideal for use in women's blouses, scarves or shawls. This type of fabric should be washed by hand using mild soap with warm or cold water; do not machine wash and dry as this can affect its appearance. Ironing should be done with a damp cloth over the garment to avoid changing its texture.

Crepe:
A thin and light wool, silk or cotton fabric that has a rough appearance. It's used in women's dresses of all kinds, and in the making of suits and coats. Care recommendations: wash the garment in a delicate cycle with cold water and hang dry.

Dry-fit:
The most important sports fabric of all, its composition has polyester microfibers that evaporate moisture. Designed to provide freshness and comfort during physical exercise and thus, avoid sweating. It was created by the Nike sports brand, and it's used in t-shirts, shirts, pants, and even caps. Care recommendation is to wash inside out with cold water, using powdered detergent, hang dry outdoors or tumble dry low.

Flannel:
Soft and fine wool or cotton fabric, it's popular with people who work outdoors due to its insulating capacity and durability. It's used to manufacture shirts, coats, suits, and jackets. Care recommendations: wash at the washer's minimum speed in cold water, using a minimum quantity of detergent. Do not use bleach or chlorine to avoid damaging the garment, hang dry or tumble dry low.
Gabardine:
Resistant fabric with a crisp finish with wear resistance, it has a smooth face and a diagonally ribbed one. It is used to manufacture uniforms, suits for women and men, blouses, skirts, and coats, among others. Care recommendation: as one of the main characteristics of this fabric is the difficulty it has for ironing, it's recommended to wash in a low cycle and hang dry at room temperature.

Gauze:
Made of 100% cotton threads, this fabric has a semi-transparent and light shade. It's ideal for making dresses and blouses. Care recommendations: wash with cold water, avoid using a dryer as this causes shrinkage in the garments. Don't iron.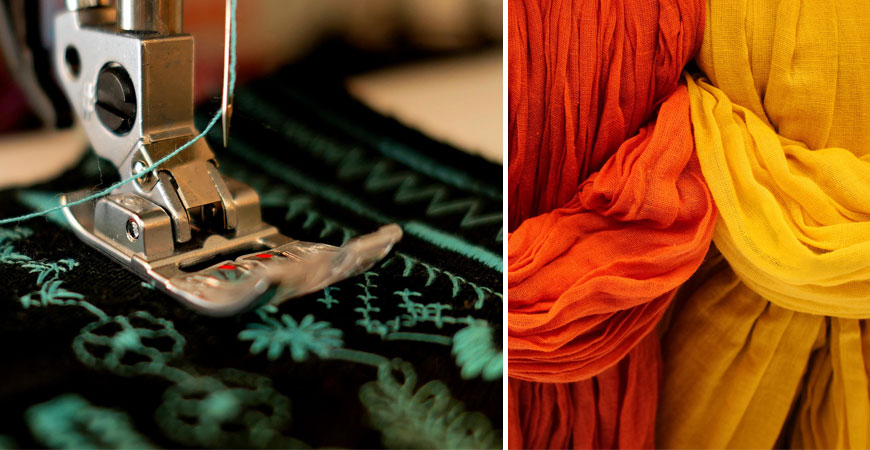 Linen:
It's one of the best-known fabrics in the world: it's luxurious, comfortable and elegant. It gets a resin bath that makes it look with a waxed appearance, and it decreases its wrinkles. Its price is high; therefore, it's mixed with other fibers but without losing its main characteristics. It's mainly used for manufacturing summer dresses, shirts, pants and jackets. Care recommendations: ideally, don't tumble dry, it's preferable to hang dry and using anti-wrinkle softeners will make ironing it easier.

Canvas:
A rough and resistant fabric made of hemp or cotton threads. Mostly used for making bags, pants, jackets, and raincoats. Care recommendation is to wash at a maximum temperature of 40° Celsius, without using bleach or chlorine, and it's desirable to iron at a low temperature.

Denim:
Cotton fabric made with different thread colours; the most popular one is indigo blue. It has been widely used for creating hard-work garments, and its popularity created the famous blue jeans. It's also used to manufacture uniforms, sports gear, caps, shirts, jackets, and more.
Care recommendations: it is advisable to wash inside out with cold water and to add a little white vinegar at the end of the wash cycle. To prevent wrinkles, it's best to hang dry.

We hope that this list of the most popular and known fabrics in the market, and its care information will be valuable. People interested in knowing about what is used to manufacture the different garments that are used around the world should find this information useful.