The importance of school uniforms.
Kids' education is very important both for parents and for teachers. A cornerstone to creating a good relationship between students is the use of school uniforms as these help in creating an identity between students and their school.
In this article, we will talk to you about the relevance the use of school uniforms has in all stages of children education, from kindergarten to high school or even their university years. 
UNIFORMS AS IDENTITY CREATORS

Sometimes parents, teachers, and even students oppose the use of school uniforms. The reasons for this are varied, but among the main arguments they have is their high cost, the low quality of the final product, they don't add any value to student performance, they prevent students from showing their personality and families don't like the designs they have. And even though you may find negative opinions about the use of school uniforms, there are arguments that create a positive impact on this topic.
Using a school uniform helps in creating a bonding relationship between a student and the school he or she attends. The uniform can help in developing an identity towards the school, and it makes the student feel comfortable. When students use the same piece of clothing, stereotypes are reduced as differences between students are not that noticeable on a day to day basis.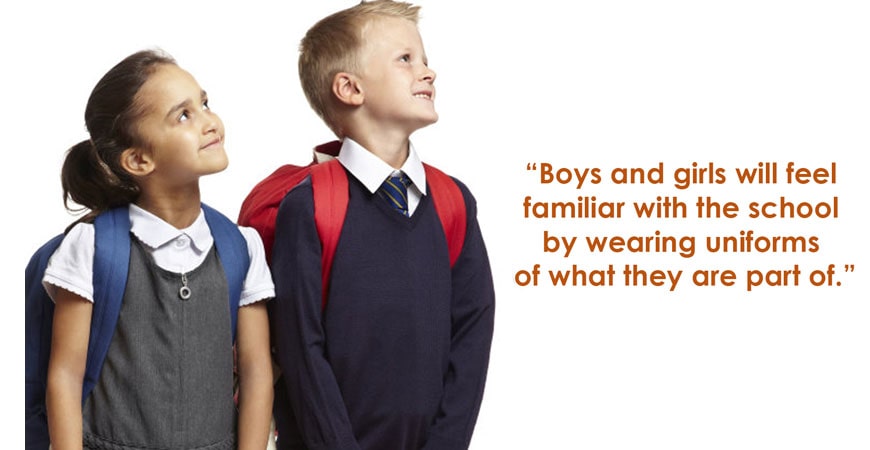 Even though nowadays a trait wanted in students is for them to show and work on their personality, the use of a uniform doesn't prevent this even when the garment unifies the group. While the uniform shows a certain student belongs to a certain school, the different activities, abilities and personality traits of the students contribute to their personal development. 
As students participate in events such as fairs, expos, sports and charity events, among others, they can show the connection they have to their school, their identity, and they can share it with others, creating relationships and bonds that last over a lifetime. 
BENEFITS OF THE USE OF SCHOOL UNIFORMS
In addition to the psychological benefits mentioned above, the use of school uniforms benefits the family economy as their use has a positive impact on a family budget: the expense for day-to-day clothing is reduced. 
For a school uniform to last a long time, it has to be manufactured with high-quality materials that are resistant and easy to care for. Our school uniforms comply with these requirements, and they can be used over a long time and even be inherited to siblings or friends, increasing the savings for families. 
There are a lot of factors that confirm the importance of the use of school uniforms. At PESA Uniformes, we are proud to be a part of the identity of the schools we collaborate with, not only for how we have grown together but also for the joy the students feel when they receive a uniform that helps in creating a bond with their school. 
 "Boys and girls will feel at home in their school by wearing uniforms that represent what they are a part of".